We hope you guys had an amazing week! Check out last week's winners:
In the " Advanced Editing Course #3" Challenge:
We had an amazing battle for the top spot this week! A total of 6 players scored 10\10 but there is only one winner:
ADS Polo32 wins the challenges this week with an amazing time of 1:57 minutes! He wins 1000 V-Bucks worth of gifts!
The competition was super close! Check out the times for the top places:
#1 ADS Polo32 – 1:57
#2 Fr0s3yΨ – 2:04
#3 Sanwalhtapohcysp – 2:07
#4 Michelle LuvsU – 2:08
#5 Happier Pancho – 2:14
#6 chris got 70ping – 2:18
In the " 10 Min slayer" Challenge:
The winner is FSL JETPRO with 29 eliminations! Amazing!! He wins 1000 V-Bucks worth of gifts!
Congratulations to the winners!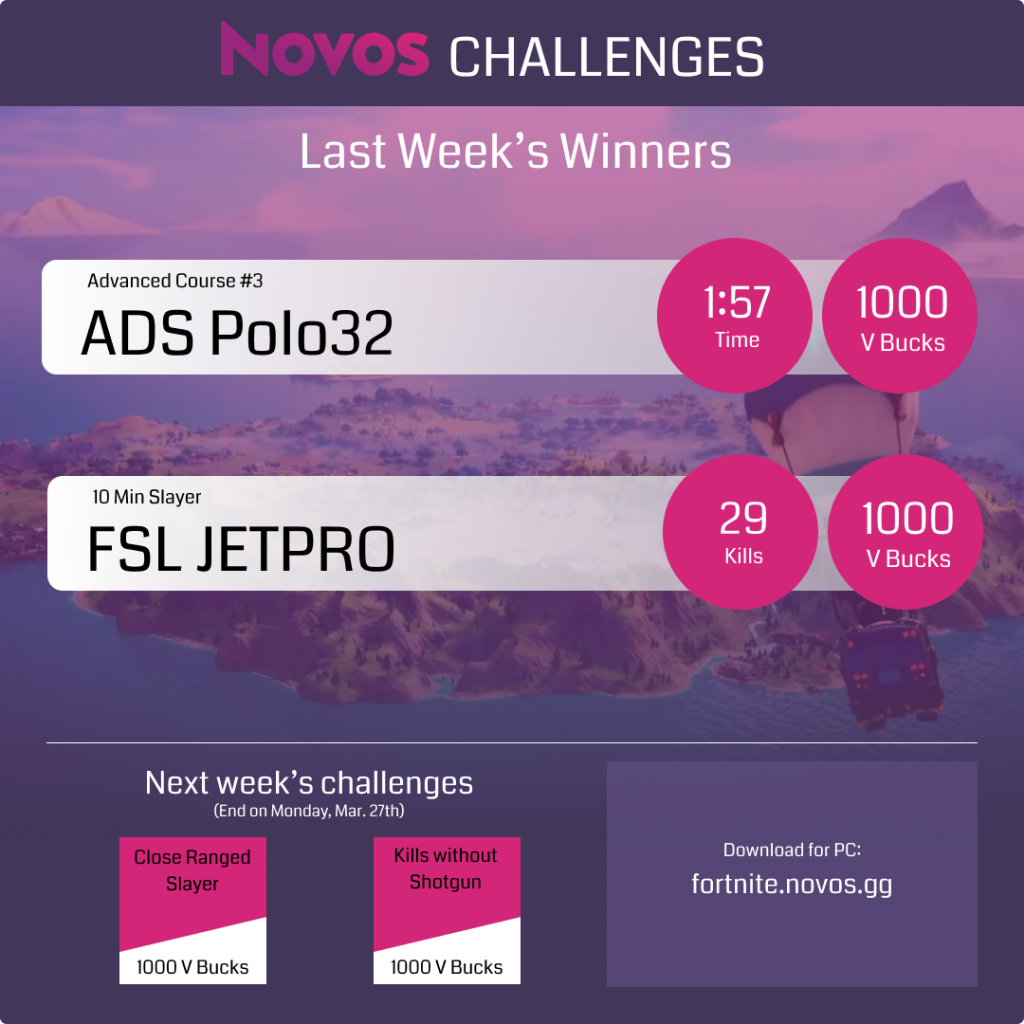 Now for next week's challenges that will reward you with a prize! (1,000 V-BUCKS in Gifts)
"Kills without Shotgun" – Eliminate as many enemies as possible using everything, but shotguns!
"Close Ranged Slayer" – We want to know how well you perform in close quarters too! How many players can you eliminate using close-range weapons?
Don't have NOVOS installed on your PC now?!
Head over to https://fortnite.novos.gg/ to download it now and be a part of this week's challenges!
You can also join our Discord server for some useful tips and tricks!
Rise to the top of the leaderboard and improve your skills in the process! Good luck!