Here at NOVOS, we know that making data-driven decisions can make the difference between a loss and a victory royale.
As a part of our mission to improve your gaming skills, we are going to share some interesting Fortnite statistics that you can use to make better in-game decisions. The following information was collected from thousands of matches played by NOVOS users.
All the games were Arena matches played on PC.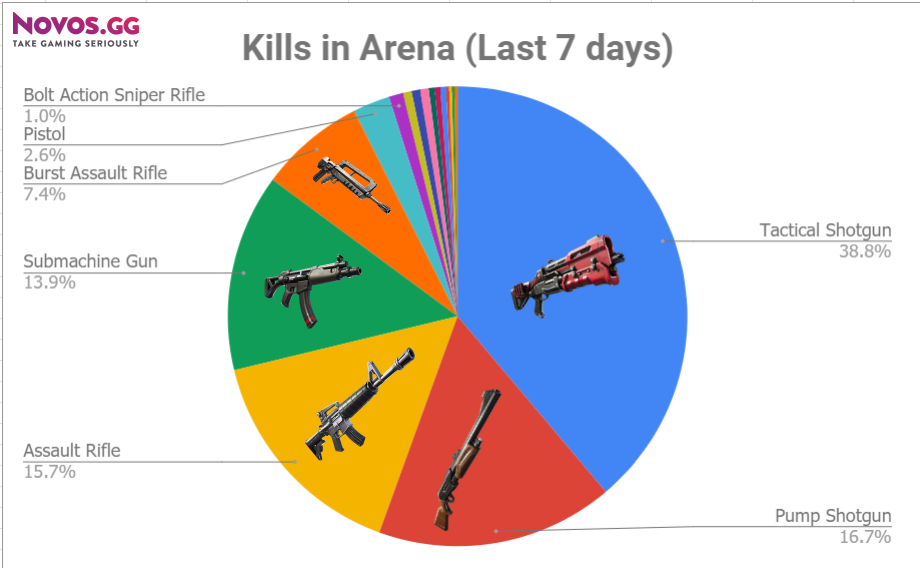 Even though the Fortnite battle royale map is so massive, close-range weapons dominate the chart. 72% of all kills in the last few days were from short to medium range.
As we can see, the Tac takes a serious bite of the pie. Players seem to prefer the tactical shotgun unless they get their hands on a pump with better rarity (Usually Blue or more). While the pump isn't as popular as before, it still takes the second place in kills this week.
In the AR section, the Assault Rifle get doubled the kills when compared to the Burst. Not really a surprise there. Still, many Arena players prefer the Burst AR when it comes to higher rarities.
The less than 1% part of the chart includes weapons like the Drum Gun, Rocket Launcher, Harpoon Gun, Minigun, Pickaxe, C4, Bosses Signature Guns, etc.
That is it for now! Tell us what you concluded from this information and what more data you would like to see!
To get your own Fortnite Deep Analytics, go to NOVOS.gg.